The Ardent Hot Springs are one of real highlites on Camiguin Island! They are located only 10 minutes or 4 km by motor bike from the tourist beaches in Agoho and Yumbing, in the mountainside of the famous Hibok - Hibok Volcano, which supplies the hot and crystal clear water.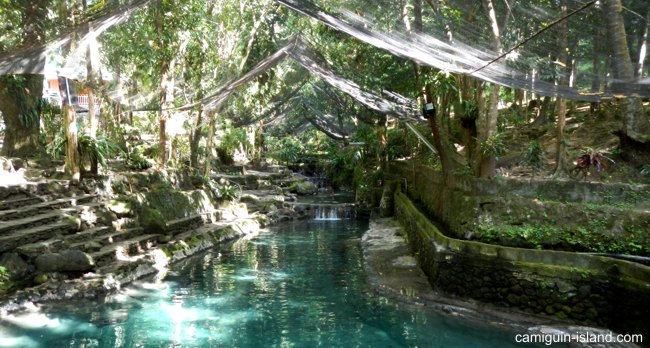 Ardent Hots Springs on Camiguin Island (Photo: Rainer Zimmermann)
The water comes right out of the forest with a temperature of just above 40°C. It is then mixed with some colder water and guided into 4 seperate pools which are arranged in cascades.
The higest pool also has the highest temperature of 40°C while the second pool ist the biggest with about 35°C and perfect for swimming. The water in the other pools is colder and offer some refreshment after a hot bath.
During the weekends and on public holidays, the springs can be very busy with local holiday makers but during the week, you will often find yourself alone taking a hot bath unter the high trees of a tropical forest.
Right next to the springs is a good resaturant and a small resort, which is mostly used by local tourists during the weekends. The entrance fee for the hot springs is 20,- Peso.