There are quiet a few waterfalls on Camiguin but only two of them are more or less easy to reach. The most popular and the biggest one are the Katibawasan Falls (picture on the left).
Not far from Mambajao Town, you can drive with your motorbike or car almost all the way up to the entrance of the falls.
The Katibawasan Falls are 76 meters high and are located in the middle of the forrest. The small basin at the base of the falls invites you for a refreshing bath.
The Tuawasan Falls are a bit smaller and also a bit further away from the tourist resorts in Agoho and Yumbing.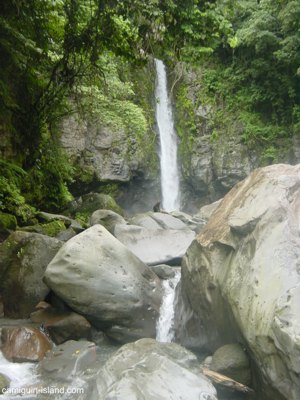 Comming from Mambajao or Agoho Beach, drive the ring road counter clockwise until the village of Compol!
There is a small sign on the road, pointing to the falls.
Follow the small road (best with offroad motorbike) as far as you can, then you will have to walk for about 30 minutes by following the river bed until you reach the falls.
It's also nice to take a refreshing bath here in the strong current of the river. Make sure it will not flush you away...