As I said earlier, Camiguin is very rich on water which comes out of the grounds at several cold and hot springs. Some of this springs are set up for tourists with a big pool for swimming, picnic huts and picnic tables which are typical for the Philippines.
The most popular ones of the springs are the Ardent Hot Springs and the Sto Nino Cold Springs
The waters that comes out from the grounds here is crystal clear and only about 20°C, which feels pretty cold if you are used of the hot surrounding. The water is so clear that, if you bring some diving mask, you can look under water from one end of the pool to the other. This is very unusual for a fresh water lake.
Once again, the pool and the picnic huts can get very busy by Filipino holiday makers on weekends and public holidays. During the week, only a very few people come here for swimming. Enterance fee is about 20,- Peso per person.
To get to Sto. Nino Cold Spings, you have to leave the main ring road in the village of Looc, near Catarman on the South-West side of the island. From the main road, it's about 2 km into the forest before you reach the resort area.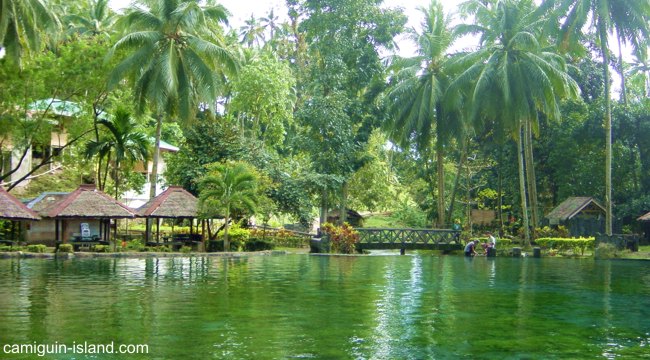 The Sto. Nino Cold Springs on Camiguin Island, Philippines
Other cold springs on Camiguin Island are the Macao Cold Springs at the east side of the island and at the Pebbles Public Pool between Catarman and Sagay in the south west of the island, not so far from the Sto. Nino Cold Springs.
Macao Cold springs are difficult to find since the area in the middle of the forest and there is no real road going there and also no sign. You got to go to the area (near Tubsan Grande) and ask the people there how to get to the springs.
The spring itself is only a small pool of maybe 100m² but with mineral rich waters that look blue - green.
Pebbles Pool is more or less a public swimming pool that is supplied with waters from a spring. It is located just beside the main road in the village of Pebbles and easy to find.