White Island is located just 1 km off shore and just in front of Camiguin's only tourist beach. It is a C - shaped, huge sand bar which changes its shape and size with the season.
There are no trees or anything else on White Island which could give you some shadow and protection from the sun. If you want to spend some hours on White Island, make sure to bring some parasol or other sunshade with you.
The short boat trip to White Island is very popular with local tourists who come to the Camiguin ond weekends and public holidays. They will go there as early as 5:00 am and come back at 8:00 am to avoid the hot sun at noon.
Foreign tourists usually go to White Island for diving. The sandbar is surounded by a colorfull coral reef on one side and a huge forest of "Black Coral" on the other side. But watch out: The current at White Island can be very strong.
To make a trip to White Island, you can rent any of the fishing boats anywhere on the beach. The locals are happy for some extra income.
You can tell them to wait for you or to pick you up at a later time. You may also ask the staff in your resort and they will help you to make some arrangements.
The trip to White Island should not cost more than 500,- Peso per boat, not per person.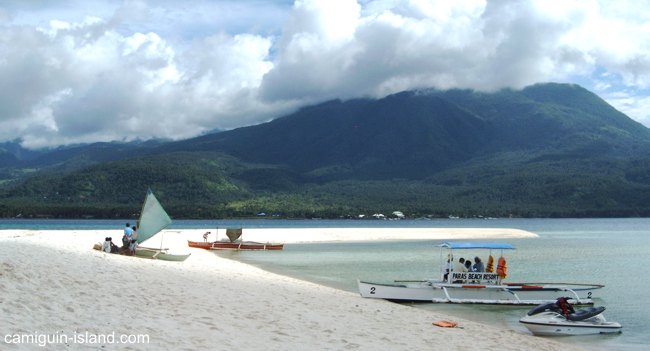 View from White Island to Camiguin, Philippines