There are only ten to twenty or so tourist resorts on Camiguin Island and, as far as I know, only a few of them are available for online booking. Bookings can otherwise only be done by phone or email or with some domestic tour operators within the Philippines.
But the resorts are mostly emty during the week and will fill up only on weekends and public holidays with local tourists. After all, except during Christmas and Eastern holiday, there should never be a problem when you arrive without a booking, you should always find a place to sleep.
Almost all resorts are located along the beachfront between Agoho and Yumbing. If your luggage is not too heavy, you can easily walk along the beach from one resort to the next. Taxidrivers will also wait until you checked in and bring you to the next place if the first one was fully booked. Here are some of the resorts you can contact by phone or via their website: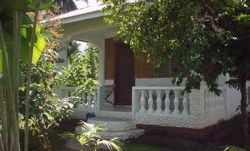 Jasmin by the Beach Resort, Camiguin
Jasmin by The Beach:
Small resort with only 2 bungalows and 1 room in the main house, all with fan, no aircon. Room rate from about 500,- Peso per night.
Very good (swiss) food in the restaurant. Tel.: (088) 387-9015, ask for "Melinda".
---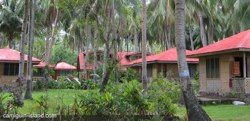 Caves Dive Resort, Camiguin
Caves Resort:
Bungalow resort on Agoho Beach with about 10 bungalows, some with aircon and some with fan only. Restaurant & Dive Center. Room rates start at: 750,- Peso up to 2.200 Peso on their Website but you may also ask for a discount.
---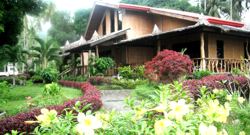 Agohay Villa Forte Beach Resort, Camiguin
Agohay Villa Forte Beach Resort
Small resort with three cottages and one big family room and Restaurant right in the center of Agoho Beach.
The Resort has a boat for trips to White Island and room rates are available from 1800 (Island Cottage) to 2950 Peso (Family Room). Website
---
---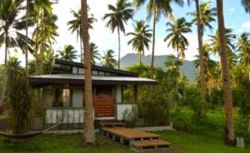 SomeWhere Else Boutique Resort, Camiguin
SomeWhere Else Boutique Resort
If you like some " a little different accomodation, the SomeWhere Else Boutique Resort might be the right for you.
This Resort has only two Bungalows (Villas) so you have be lucky to make a booking!
Room Rates about 3800 - 4500 Peso!
---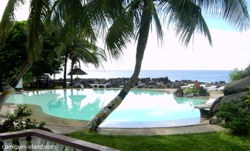 Paras Beach Resort, Camiguin Island
Paras Beach Resort:
One of the more luxurious resorts on Camiguin.
More than 30 rooms either in the main building or in a separate cottage.
Swimmingpool, Restaurant & Dive Center. Room rates start at 2250,- Peso. Website.
---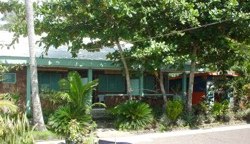 Secret Cove Beach Resort, Camiguin Island
Kurma Yoga Dive and Beach Resort
(Secret Cove Resort)
Small Beach Resort under Canadian/Filipino Management. Very good food and the best stocked bar on the island. 6 aircon and 1 fan room. Rates start at 850,- for the fan room and at 1200,- Peso for an A/C room.
---
---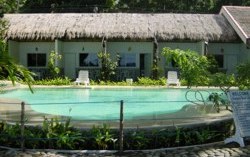 Camiguin Beach Club
Camiguin Island Golden Sunset Beach Club
Small Beach Resort at the end of Yumbing Beach. Only six rooms with A/C, restaurant & swimming pool.
Rates start at 1600,- Peso for the A/C Room Website.
---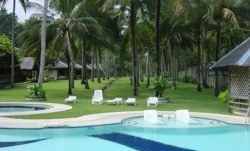 Bahay Bakasyunan Reort, Camiguin
Bahay Bakasyunan sa Camiguin
Luxurious Resort east of Mambajo and next to the pier in Balbagon, where the weekly Super Shuttle Ferry from Cebu arrives. Restaurant & Swimming Pool, Rates from 2350,- Peso. Website.
---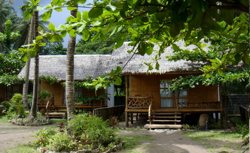 Camiguin Action Geckos Resort, Camiguin
Camiguin Action Geckos Dive & Adventures Resort
Small bungalow resort in the center of Agoh Beach under Swiss/German management. There are four beach- cottages and 3 simple traveller rooms, close to the beach. Restarurant & Dive Center. Rates: from US$ 15 for Traveller room and US$ 40 for a Beach Cottage. Website.
---
Camiguin Highland Resort
Luxurious Hotel Resort, located in the mountains of Camiguin. Restaurant with function rooms, swimming pool, jacuzzi. All set up for business meetings and seminars but also for the traveller who likes to stay in a luxurious ambience. Room rates start at 2200,- Peso. Book now!