Camiguin is not an island where every tourist will spend all day on the beach. There is a lot of action to be done, may it be jungle trekking, volcano climbing, rapelling, canyoning or scuba diving. There is something for everybody.
The easiest thing and what allmost everybody wants to do, is a trekking tour on Hibok Hibok Volcano. You can ask at the reception desk of your resort and they will know some guide to lead you on the tour.
It will mostly start with a short Jeep or motorbike ride as far as possible into the moutains before you will have to walk further up to maybe reach the lake on Mt. Hibok Hibok. On the way down you will have to pass rivers and waterfalls and you may end up on the other side of the island from where you will have to ride a Jeepney back to your resort.
This tour is typically privatly organized, make sure you bring enough water for you to drink and some money for the ride back. Also your shoes should be suited for walking through rivers and mud. Slippers are for sure the wrong one.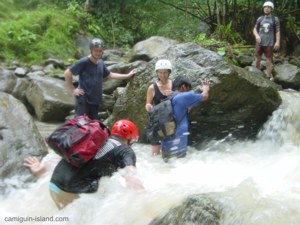 Camiguin Action Tours
For the more adventures tours you might need some special equipment like ropes, helmets and other stuff. It's a good idea to do this on an organized tour with a well equiped tour operator.
Whenever you make such a trekking tour into the jungles of Camiguin, make sure you do that on a nice and sunny day and not in the middle of heavy rain. You might have to wait a day or two before you can start the trip.
It's pointless, when the moutains are covered in heavy clouds and you see nothing but fog on your tour. If it's raining on Camiguin however, it's always a good idea to take a hot bath in the Ardent Hot Springs and wait for the sun to come out.