There is a reason that Camiguin is also called "The Island Born off Fire"! Camiguin has seven (7) volcanoes and one of them, Mt. Hibok Hibok, is still considered active! It's last eruption dates back to 1951, when boiling lava, poisonous gases and landslides killed 3000 people on the island.
The Names of the volcanoes on Camiguin are: Mt. Hibok Hibok, Mt. Mambajao, Mt. Guinsiliban, Mt. Timpoong, Mt. Vulcan, Mt. Uhay and Mt. Tres Marias.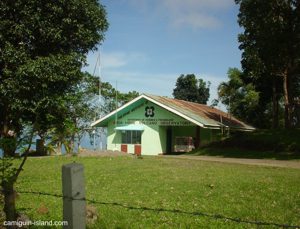 Vulcano Observatory Station, Camiguin
Camiguin's highest volcano is Mt. Timpoong with about 1600 meters, followed by Mt. Mambajao with 1400 meters and Mt Hibok Hibok with 1240 meters.
All these volcanoes are resposible for Camiguin's climate and mosts of it's tourist attractions. The high mountains catch and hold the clouds and therfore, it rains a lot on Camiguin. Once again, the waters come out in a number of hot and cold springs all over the island as well as waterfalls and rivers.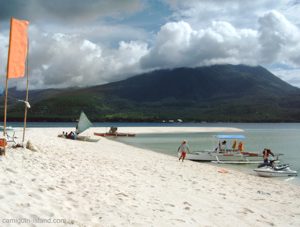 View on Hibok Hibok Vulcano, Camiguin
If you would like to climb on one of the volcanoes, I would recommend Mt. Hibok Hibok for a tour. Ask at the reception desk in your resort and they will provide a local guide, who will lead a safe tour across the volcanoes. For more adventurous trecking tours that include rapelling, canyoning, rafting and other stuff like that, you should contact the Camiguin Geckos Dive & Adventure Resort in Agoho.
Also worth a visit is the Hibok Hibok Volcano Observatory. They like to show you their measuring instruments and there is also a photo gallery of the last eruptions on display. You can also get the latest information on seismic activity from Hibok Hibok volcano. To reach the station, just ride your motorbike uphill, next to the tennis court in Mambajao and follow the concrete road. You may also drive even further up the hill and enjoy the panoramic view over the island.